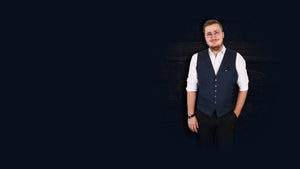 Our history
of the exclusive
taste
Our story
I have had a passion for whiskey for many years now: I started as a "normal connoisseur" with a bottle of Dalwhinnie 15 and later with a Lagavulin 16. Then I tasted my first 12-year-old Macallan – and I was done! This fine wine suddenly awakened my enthusiasm for whiskey. Within a very short time I had my first collection of 50 bottles.

Driven by pure fascination, I have expanded my expertise over the last few years. I have continually expanded my knowledge of whiskey through numerous tastings, seminars, trade fairs and books. I have now tried well over 1,000 varieties and am still looking for something new and unknown to me.

Turning my hobby into a career is the greatest fulfillment for me! To awaken the passion that once gripped me in other people – that is my calling. Because I'm passionate about whiskey, rum & co.
Behind the scenes